U.P. TREE IDENTIFICATION KEY
from Michigan State University Extension

FOREST HEALTH - SOFTWOOD SUCKING INSECTS
This group is named because its insects have sucking mouth parts and feed on plant fluids. A huge number of species are included, but few cause actual death to trees. Their main offense is robbing the tree of its food and water. This, of course, can eventually affect growth and health, but most damage is minor. They are also known to spread tree diseases and sometimes the slits they make in branches weaken the branch enough that it dies or snaps off. Evidence of their activity can also appear as defoliation. True bugs are most common order (Hemiptera). Red text indicates an exotic pest.
Aphids (adelgids, spittlebugs)
Balsam Woolly Adelgid
Eastern Spruce Gall Adelgid
Hemlock Woolly Adelgid
Scales
Aphids & spittlebugs (Hemiptera, true bugs): these bugs insect feeding mouthparts in to needle or twig tissue, some form spittle masses for protection

Hosts: most noticable on pines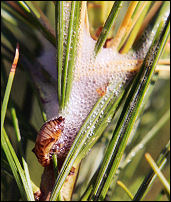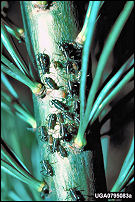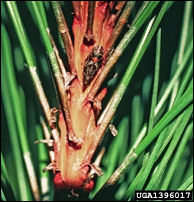 [below: pine spittlebug, white pine aphid, Saratoga spittlebug]
Balsam woolly adelgid (Adelges piceae): serious problem in true firs, especially in eastern North America, not yet common in the upper Lake States, can appear on twigs similar to hemlock woolly adelgid or on bark similar to beech scale, introduced in 1908
Hosts: mostly balsam fir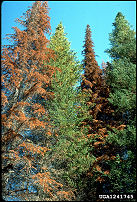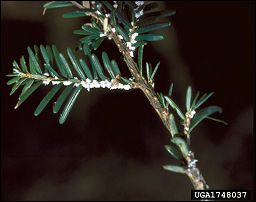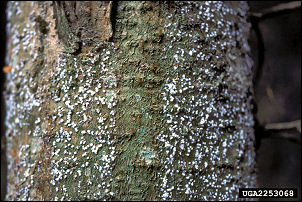 Eastern spruce gall adelgid (Adelges abietes): common, causes the twig/needle growths that almost look like hard cones, usually only a visual issue, common with Colorado blue spruce, introduced in 1904
Hosts: mostly with Colorado blue spruce, other spruces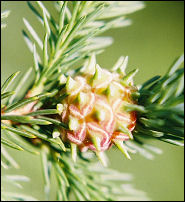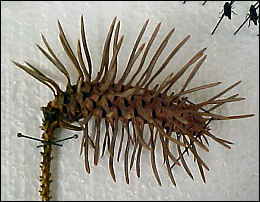 Hemlock woolly adelgid: serious problem in hemlock, mostly eastern N.America, introduced in 1927, 2001 & 2006 introductions into Michigan (both Lower Peninsula), established in the western L.P. (as of 2016), quarantines in place
Hosts: hemlock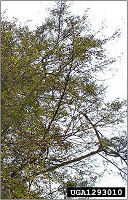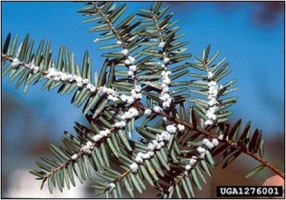 Scale insects: many species, many hosts, small insects that form hard or soft shells, or sometimes cottony tufts on twigs or needles, some species are exotics
Hosts: most species of conifers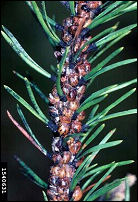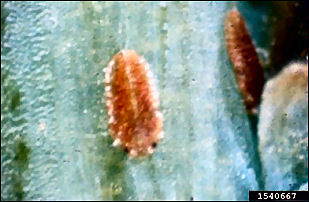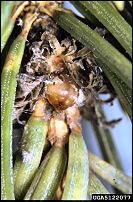 Image Citations
Aphids (2) - William H. Hoffard, USDA Forest Service, Bugwood.org
Aphids (3) - USDA Forest Service - Northeastern Area Archive, USDA Forest Service, Bugwood.org
Balsam Woolly Adelgid (1) - David Beckman, Idaho Department of Lands, Bugwood.org
Balsam Woolly Adegid (2) - Robert L. Anderson, USDA Forest Service, Bugwood.org
Balsam Woolly Adegid (2) - Jerald E. Dewey, USDA Forest Service, Bugwood.org
Hemlock Woolly Adelgid (1 ) - James Johnson, Georgia Forestry Commission, Bugwood.org
Hemlock Woolly Adelgid (1 ) - Michael Montgomery, USDA Forest Service, Bugwood.org, 2-crown)
Pine Tortoise Scale (1, 2) - Lacy L. Hyche, Auburn University, Bugwood.org
Spruce Scale (3) - United States National Collection of Scale Insects Photographs Archive, USDA Agricultural Research Service, Bugwood.org
All others - Bill Cook, Michigan State University Extension

---
Click HERE to return to the U.P. Tree ID home page.
Click HERE to return to the Forest Health home page.
---
This site created and maintained by Bill Cook, MSU Extension Forester for the Upper Peninsula of Michigan. Editing and modification is ongoing. Submit suggestions, questions, and corrections to cookwi@msu.edu or call 906-786-1575.